It is early Monday morning here in Vienna and I felt it was time to write a little summary post just on the brink of this years' EMEA Momentum conference. This will be my third EMEA conference (attended Prague in 2008 and Berlin in 2011) but I have also been to five EMC World conferences, the last one in May this year. For me these conferences are something special since they are a unique opportunity to be around people caring and knowing about Enterprise Content Management. Customers with interesting problems but not the least people from EMC IIG Engineering who I have had so many great conversation with around ECM and Search. In my project we have some unusual requirements which are usually met with surprise or even skepticism by IT people, but usually not from EMC Engineering which is just great. EMC is not a perfect company but this provides a setting why I really like coming to Momentum every year, it is a vital place to recharge my innovations spirits. I have also been fortunate to share some experiences from our project as a speaker. So what do I expect from this years conference then?
First let me start with arriving in Vienna today. Just outside the entrance from baggage claim there was a nice booth welcoming us and providing us with guidance on how to get to our Momentum coaches. I think this is a nice touch that makes the trip more "seamless" to use some Apple language. It is not something I am used to from EMC World but on the other hand those conferences have grown to 15 000 people nowadays. I snapped a photo of the Momentum crew in the arrival hall: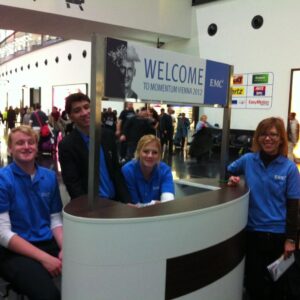 Somehow it seems that the excitement this years is a bit higher than I am used to. Naturally I need to mention this blog post by Brilliant Leap that really gets the expectations flowing. Jed Spinks have even created an application in Documentum xCP to manage his Momentum information and let us access it. It seems that people expect that it will be a major launch during the event which of course that even CMS Wire will write something about Documentum 🙂
I agree that xCP version 2.0 will be in focus and rightfully so. It is way cooler than what most people (especially outside the IIG community) understands. I really look forward to see a stable version with all the major tools and interfaces integrated. Which brings me to the area I will cover most thoroughly, interfaces and end user features. I really, really hope to see good progress towards one unified user interface architecture and if they could merry D2 and xCP ExtJs-based interfaces would be great. However, I do hope that some Centerstage and some DAM/Media Workspace features finds its way to the new interface as well. As noted during EMC World I can't get my head around why EMC IIG does not make that more of a priority. Documentum has the architecture to handle massive amounts of images and video and now when cameras and smart phones are everywhere there is an opportunity to provide "Flickr for the Enterprise" and "Youtube for the Enterprise" using Documentum. Make it fun and easy to manage rich media!
I also need to mention Next Generation Information Server (NGIS) as well. Jeroen's thoughts around this is music to my ears but it would be nice to see some real progress in this area as well. At EMC World we got the message that NGIS was mainly focused on the cloud (OnDemand) side of IIG business while Documentum 7 would be the on premise way. However, mechanisms to easily move code from xCP in D7 to NGIS was a priority. I wonder if we could see some roadmaps on making NGIS the new unified architecture or maybe I am just dreaming? I really would like to run NGIS on premise on our project anyway.
Integration of other EMC software is another area of excitement and expectations from my side. First and foremost VMWare of course which seem to make the whole business of deploying and running Documentum something completely different than what we are used to. Not just virtualisation but also their custom tcFabric Tomcat application server is really interesting. RSA technology would be nice to see more and of course my favourite in the social area, Socialcast. I really want to see Socialcast being integrated both on the platform side as well as a the main way of providing activity streams inside xCP.
Well, that was some of my thoughts. See you at the conference and follow me on Twitter (Tweets posted here in my blog to the right).