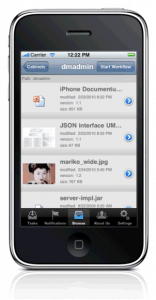 So, finally I got to see it. Documentum on iPhone OS, running on both the iPhone and the iPad. I had said it before and say it again: from a information management perspective it makes so much sense to combine the intuitive interface of the iPhone OS with power that lies in a Documentum repository. Make use of all the metadata around content objects and exploring information becomes a breeze on a multi-touch device.
It is the company called Flatiron Solutions that brought this to market. You can download a version of it from the iTunes App Store. In order to connect your own repository you will need a server component that sits between the iPhone OS App and the Documentum repository.
I had a chance to try it out on both the iPhone and the iPad in their booth at the Solutions Pavillion last night and it was so fun. I really want this in our Battle Lab. A very sexy interface for Documentum!