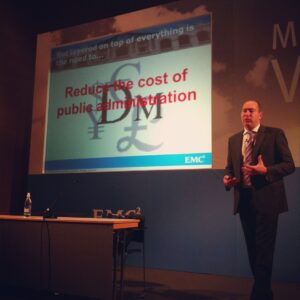 Tuesday at the conference was divided into three industry tracks: public sector, energy & engineering and healthcare. In addition to that a developer tracks and two unnamed ones. I choose to attend the public sector track for the first and last session of the day.
The day kicked of with Ronnen Ronnen who is the Vertical Solutions Director for Public Sector in EMEA. His session "Public Sector trends and vision" was an overview of the issues and trends in our area. The main features of his speech were:
eGov Mission Statement
Public Sector Challenges
IIG Strategy
Moving to Solutions
The main keywords for public sector seemed to be: services, processes, streamline, efficiency, simplification and re-engineering gov processes. Shrinking public sector budgets and needs to cut costs in IT seemed to be an important rationale. Depending on how you interpret things it seemed to be an IT perspective – minimize costs but what about deliver new capabilities rather than cheaper existing ones? Priorities for the public sector from this IT perspective was stated to be:
Data protection
Organisational restructuring
Administration change
Improving services delivery
Handling economic constraints
Regulatory compliance
To me it seem important to distinguish WHAT measure you take from the underlying reasons WHY you them. From an IT perspective there is a risk of just focusing on delivering what we do know or at least they way we work now in a more cost effective way. I wonder for how long it will be enough not improving what the business do while doing it more efficiently. It boils down to how big of a picture you want or can take. Is it just IT meaning boxes and software or  is it a more strategic take on how the organization does its business?
However, somethings need to be focused on the IT-perspective and relates to the actual ability to support the business with new IT-support, the time to market aspect is crucial not only to save money but also to make it in a reasonable time frame from the business perspetive. Ronnen summarized it like this:
"Sometimes the time to market is so long that when you deliver the people initiating it are no longer there"
That means a requirement to move to a more agile development process and of course the way Doumentum xCP is heading reflects that. They claim 5-10 times faster development cycles which really addresses these challenges. Other trends that adresses the challenges are:
Cost optimization
Alternative delivery models (cloud)
Shared services
Outsourcing
Joint private/public
Mobility
The afternoon session was labeled a roundtable session but unfortunately quite few people showed up in a fairly large room. That meant that some of the intensity of a big crowd was lost. We got an introduction from Ronnen followed by two customers talking about their experiences. Hong Kong Civil Service efficiency unit was interesting. He shared with us the current situation in Hong Kong where they have not been able to hire new civil service workers for the past 10 years. That means that the age structure is critical with around 50% of the workforce being over 45. In Hong Kong people can retire between 45 and 60 which means that a lot of experienced people will have to be replaced with young people with little or no experience. Preserving knowledge and best practice then becomes a key thing to do. They have chose to use EMC Documentum Centerstage to store all these SOPs and best practices and declare them as formal records from there. The idea is to move from a situation where these documents are spread on local computers and file shares into a centralised but sharable architecture. After all the goal is to support all these youngsters with information they need to continue to provide civil services to Hong Kong citizens. "Put information at work" was a term he liked to use.
Finally I like to mention a slide that Ronnen showed which was a pie chart outlining that 94% of the costs (that can be saved) are found in the processes rather than IT and software. So optimizing the way we work is the real way to save money and of course at the same time do more or better work.