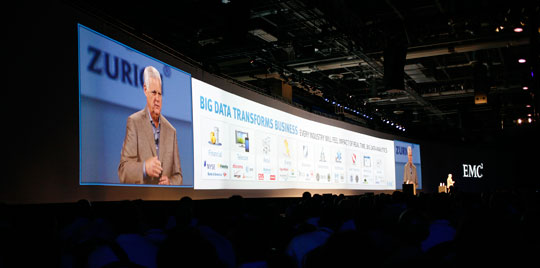 A record setting 15000 people at EMC World this year meant that the keynote session was bigger than ever. Designed around a space/scifi theme by CMO Jeremy Burton it was really impressive to see. A giant continuous curved screen covered the whole front of the area.
CEO Joe Tucci talked about his view on the radical shift in computing we see right now. Moving into a cloud era which he think is a bigger shift than any previous.
Followed by Pat Gelsinger the focus was as usual around things that make noise – big boxes. Not a word about IIG and Documentum in the keynote basically. A bit sad because it is seem to be a general issue that "traditional" IT-people only care about what is below the database. Unfortunately it is also the stuff that business people understand easily. Things that make a noise and you can touch. More abstract things like metadata, processes you find in enterprise content management seem to be harder to get and definitely harder to touch. Maybe not as sexy as big sic-fi looking boxes with huge hard drives either. A good show it was though.