MacWorld – Intel Inside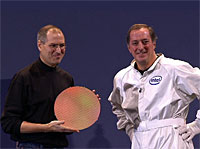 Yesterday it was time for Stevenote again (Steve Jobs + Keynote = Stevenote). Apple´s famous CEO Steve Jobs entered the scene on Tuesday morning at the Moscone Center in San Francisco for the traditional opening keynote of MacWorld SF. The rumormill had been spinning for weeks about this and the most sites expected the first Intel-based Macs to be launch ahead of scheduled. They were right.
iMacs and the new laptop called MacBook Pro was introduced, sporting brand new Intel Duo Core processors making the laptop at least four times faster than the PowerBook G4 I am writing this on. I want one of these…imagine doing video compression with them!
Other new included an FM-tuner for iPod, new versions of iLife and iWork. Oh…watching the video-on-demand stream in H.264 with my 92 inch screen was really nice 🙂