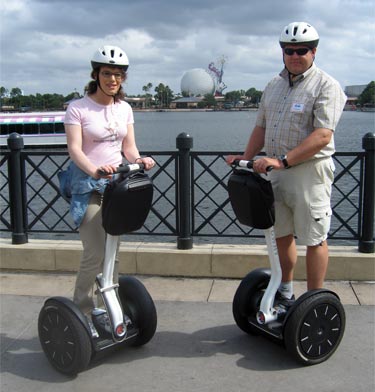 I have been to Walt Disney World (WDW) for four years in a row now and even though I still love it there is always nice to find something new that I have not seen before. One of these things are the special backstage tours that Disney offers to experienced Disney guests who want to see and do some more. Last week we did the special tour in Magick Kingdom called "Keys to the Kingdom" and today it was time for the 2 hour Segway Experience in the World Showcase area of EPCOT.
I have been on a Segway before and enjoyed it very much so I really looked forward to this tour. It started with the mandatory safety slides and signing a paper about Disney´s liabilities if an injury should occur. Then we went to the Segways in the indoor training area where we practised turning and going back and forth in a very rigor training program. We finished off running a slalom course and a ramp excercise before it was time to head out amongst people.
The first part of the EPCOT park was open to the public (this was 10 am in the morning) but the World Showcase was still closed off and that is where we were heading. It was just as wonderful as I had remembered and even more fun now with the second generation Segways which has steering built-in as a lever rather than turning a knob. Experience the big World Showcase area on a Segway suddenly made everything smaller and distances shorter and it was great to be almost alone out there. Normally it is packed with people. The guide led us through some small obstacles which was fun and then stopped in Germany, Italy, Marocco, USA and finally France to give us some more detailed facts of what the buildings in respective countries where representing.